1st photo from http://www2.wheaton.edu/bgc/archives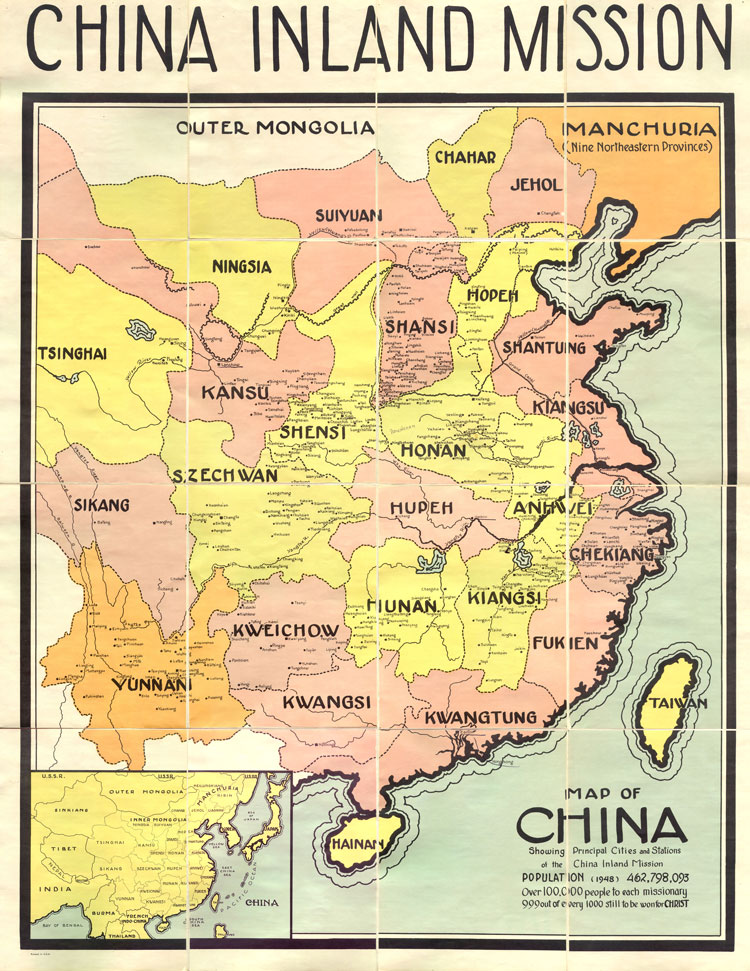 Information and photos in this post (unless otherwise noted) are from Wikipedia - http://en.wikipedia.org/wiki/Hudson_Taylor
You can read works by James Hudson Taylor at Project Gutenberg - http://www.gutenberg.org/browse/authors/t#a25841
You can read Charles Spurgeon's recounting of his first meeting with Hudson Taylor here - http://www.spurgeon.org/s_and_t/totkc.htm
Hudson Taylor MOVIE in CHINESE here - http://youtu.be/NUuzuP3hAmU
Hudson Taylor MOVIE in SPANISH here - http://youtu.be/WopRAnD0z3o
See a MOVIE on the life of Hudson Taylor at the bottom of this post
Some Hudson Taylor quotes:
All God's giants have been weak men, who did great things for God because they reckoned on His being with them.

I have found that there are three stages in every great work of God: first, it is impossible, then it is difficult, then it is done.
It is not lost time to wait upon God!
A little thing is a little thing, but faithfulness in little things is a great thing.
"All at once came the thought – If you are simply obeying the LORD, all the responsibility will rest on Him, not on you! What a relief!! Well, I cried to God – You shall be responsible for them, and for me too!"
If this is a real work for God it is a real conflict with Satan.
At home you can never know what it is to be alone – absolutely alone, amidst thousands, as you can in a Chinese city, without one friend, one companion, everyone looking on you with curiosity, with contempt, with suspicion or with dislike. Thus to learn what it is to be despised and rejected of men – of those you wish to benefit, your motives not understood . . . and then to have the love of Jesus applied to your heart by the Holy Spirit . . . this is worth coming for.
Devotion to GOD is still a voluntary thing; hence the differences of attainment among Christians."
Nearness to GOD calls for tenderness of conscience, thoughtfulness in service, and implicit obedience.
Satan may build a hedge about us and fence us in and hinder our movements, but he cannot roof us in and prevent our looking up.
Some are jealous of being successors of the Apostles. I would rather be a successor of the Samaritan woman, who, while the Apostles went for meat and forgot souls, forgot her water pot in her zeal to spread the good tidings.
There are three great truths, 1st, That there is a God; 2nd, That He has spoken to us in the Bible; 3rd, That He means what He says. Oh, the joy of trusting Him!
When the heart submits, then Jesus reigns When Jesus reigns, there is rest.
The life of James Hudson Taylor
James Hudson Taylor (Chinese: 戴德生) (21 May 1832 – 3 June 1905), was a British Protestant Christian missionary to China, and founder of the China Inland Mission (CIM) (now OMF International). Taylor spent 51 years in China. The society that he began was responsible for bringing over 800 missionaries to the country who began 125 schools and directly resulted in 18,000 Christian conversions, as well as the establishment of more than 300 stations of work with more than 500 local helpers in all eighteen provinces.

Taylor was known for his sensitivity to Chinese culture and zeal for evangelism. He adopted wearing native Chinese clothing even though this was rare among missionaries of that time. Under his leadership, the CIM was singularly non-denominational in practice and accepted members from all Protestant groups, including individuals from the working class and single women as well as multinational recruits. Primarily because of the CIM's campaign against the Opium trade, Taylor has been referred to as one of the most significant Europeans to visit China in the 19th Century. Historian Ruth Tucker summarises the theme of his life:
No other missionary in the nineteen centuries since the Apostle Paul has had a wider vision and has carried out a more systematised plan of evangelising a broad geographical area than Hudson Taylor.

Taylor was able to preach in several varieties of Chinese, including Mandarin, Chaozhou, and the Wu dialects of Shanghai andNingbo. The last of these he knew well enough to help prepare a colloquial edition of the New Testament written in it.
His youth
Taylor was born in Barnsley, Yorkshire, England, on 21 May 1832 the son of a chemist (pharmacist) and Methodist lay preacher James Taylor and his wife, Amelia (Hudson), but as a young man he moved away from the Christian beliefs of his parents. At seventeen, after reading an evangelistic tract pamphlet entitled "Poor Richard", he professed faith in Christ, and in December
1849, he committed himself to going to China as a missionary.[citation needed] At this time he came into contact with Dr Edward Cronin of Kensington—one of the members of the first missionary party of thePlymouth Brethren to Baghdad. It is believed that Taylor learned his faith mission principles from his contact with the Brethren.

Taylor was able to borrow a copy of China: Its State and Prospects by Walter Henry Medhurst, which he quickly read. About this time, he began studying the languages of Mandarin, Greek, Hebrew, and Latin.
In 1851, he moved to a poor neighbourhood in Kingston upon Hull to be a medical assistant with Dr. Robert Hardey, and began preparing himself for a life of faith and service, devoting himself to the poor and exercising faith that God would provide for his needs. He practised distributing gospel tracts and open-air preaching among the poor. He was baptised by Andrew John Jukes of the Plymouth Brethren in the Hull Brethren Assembly in 1852, and convinced his sister Amelia to also take adult baptism.

In 1852 he began studying medicine at the Royal London Hospital in Whitechapel, London, as preparation for working in China. The great interest awakened in England about China through the civil war, which was then erroneously supposed to be a mass movement toward Christianity, together with the glowing but exaggerated reports made by Karl Gützlaff concerning China's accessibility, led to the founding of the Chinese Evangelisation Society, to the service of which Hudson Taylor offered himself as their first missionary.
His Work in China
Taylor left England on 19 September 1853 before completing his medical studies, arriving in Shanghai, China, on 1 March 1854. The nearly disastrous voyage aboard the clipper Dumfries through an Easterly passage near Buru Island lasted about five months. In China, he was immediately faced with civil war, throwing his first year there into turmoil.
Taylor made 18 preaching tours in the vicinity of Shanghai starting in 1855, and was often poorly received by the people, even though he brought with him medical supplies and skills. He made a decision to adopt the native Chinese clothes and queue (pigtail) with shaven forehead, however, and was then able to gain an audience without creating a disturbance. Previous to this, Taylor realised that wherever he went he was being referred to as a "black devil" because of the overcoat he wore. He distributed thousands of Chinese Gospel tracts and portions of Scripture in and around Shanghai.
Scottish evangelist, William Chalmers Burns, of the English Presbyterian Mission began work in Shantou, and for a period Taylor joined him there. After leaving he later found that all of his medical supplies, being stored in Shanghai, had been destroyed by a fire. Then in October 1856, while travelling across China he was robbed of nearly everything he owned.
Relocated in Ningbo by 1857, Taylor received a letter from a supportive George Müller which led to Taylor and his co-worker John Jones deciding to resign from the problematic mission board which had sent them, and instead work independently in what came to be called the "Ningpo Mission". Four Chinese men joined them in their work: Ni Yongfa, Feng Ninggui, Wang Laijun, and Qiu Guogui.
In 1858, Taylor married Maria Jane Dyer, the orphaned daughter of the Rev. Samuel Dyer of the London Missionary Society, who had been a pioneer missionary to the Chinese in Penang, Malaysia. Hudson met Maria in Ningbo where she lived and worked at a school for girls which was run by one of the first female missionaries to the Chinese, Mary Ann Aldersey.
Because of health problems, in 1860 Taylor decided to return to England for a furlough with his family. The Taylors sailed back to England aboard the tea clipper Jubilee along with their daughter, Grace and a young man, Wang Laijun, from the Bridge Street church in Ningbo, who would help with the Bible translation work that would continue in England.
He travelled extensively around the British Isles speaking at churches and promoting the needs of China. At home in the East End of London he also ministered at Newgate Prison. During this time he became friends with Charles Haddon Spurgeon, who pastored theMetropolitan Tabernacle and became a lifelong supporter of Taylor.
On 25 June 1865, at Brighton, Taylor definitely dedicated himself to God for the founding of a new society to undertake the evangelisation of the "unreached" inland provinces of China. He founded the China Inland Mission together with William Thomas Berger shortly thereafter. In less than one year, they had accepted 21 missionaries and raised over £2,000 (about £130,000 in 2007 terms).
PHOTO below: On 26 May 1866, after more than five years of working in England, Taylor and family set sail for China with their new missions team "the Lammermuir Party" aboard the tea clipper Lammermuir. A four-month voyage was considered speedy at the time. While in the South China Sea and also the Pacific Ocean the ship was nearly wrecked but survived two typhoons. They arrived safely in Shanghai on 30 September 1866. The Lammermuir Party included 16 missionaries and the Taylors' four children.
Return to China
The arrival of the largest party of missionaries ever sent to China—as well as their intent to be dressed in native clothing—gave the foreign settlement in Shanghai much to talk about and some criticism began for the young China Inland Mission. The party donned Chinese clothing, notwithstanding—even the women missionaries—which was deemed semi-scandalous at the time. When other missionaries sought to preserve their British ways, Taylor was convinced that the Gospel would only take root on Chinese soil if missionaries were willing to affirm the culture of the people they were seeking to reach. He argued, from the example of the Apostle Paul, "Let us in everything not sinful become like the Chinese, that by all means we may save some."
In 1869 Hudson was influenced by a passage on personal holiness from a book called "Christ Is All" by Henry Law that was sent to him by a fellow missionary, John McCarthy. "The Lord Jesus received is holiness begun; the Lord Jesus cherished is holiness advancing; the Lord Jesus counted upon as never absent would be holiness complete." This new understanding of continually abiding in Christ endured for the rest of his life. At the time, he was quoted by fellow missionary Charles Henry Judd as saying: "Oh, Mr. Judd, God has made me a new man!". Photo below left – Hudson Taylor 1893
 His wife Maria died of cholera in 1870, weeks after she gave birth to a son who survived for only 2 weeks. Her death shook Taylor deeply, and in 1871, his own health began deteriorating further, leading to his return to England later that year to recuperate. In 1871 Taylor was married to Jane Elizabeth Faulding who had been a fellow missionary since 1866. During the winter of 1874 and 1875 Taylor was practically paralysed from a fall he had taken on a river boat while in China. In this state of crippling physical hindrance, Taylor confidently published an appeal for 18 new workers to join the work. When he did recover his strength, Jennie remained with the children, (including a new son and daughter, Ernest and Amy, as well as the orphaned daughter of fellow missionary George Duncan) and in 1876 Hudson Taylor returned to China and the 18 requested missionaries followed him.
Taylor returned to England in 1883 to recruit more missionaries speaking of China's needs, and returned to China, working now with a total of 225 missionaries and 59 churches. In 1887 their numbers increased by another 102 with The Hundred missionaries, and in 1888, Taylor brought 14 missionaries from the United States. In the US he travelled and spoke at many places, including the Niagara Bible Conference where he befriended Cyrus Scofield and later Taylor filled the pulpit of Dwight Lyman Moody as a guest in Chicago. Moody and Scofield thereafter actively supported the work of the China Inland Mission of North America.
Due to health issues, Taylor remained in Switzerland, semi-retired with his wife. In 1900, Dixon Edward Hoste was appointed the Acting General Director of the CIM, and in 1902, Taylor formally resigned. His wife, Jennie, died of cancer in 1904 in Les Chevalleyres, Switzerland, and in 1905, Taylor returned to China for the eleventh and final time. There he visited Yangzhou and Zhenjiang and other cities, before dying suddenly while reading at home in Changsha. He was buried next to his first wife, Maria in Zhenjiang near the Yangtze River.
There is much more information on the life of Hudson Taylor, including a very detailed outline of chronological event at Wikipedia - http://en.wikipedia.org/wiki/Hudson_Taylor Photo below from http://wheaton.edu of China Inland Mission with Hudson Taylor in the middle (with the long beard)
The film – Hudson Taylor's life
Hudson Taylor pioneered missions to the interior of mainland China. From his arrival in Shanghai through the death of his beloved wife, you'll experience an honest look at a growing Christian whose quotes are still heard today, "God's work done in God's way will never lack God's supply." ; Running Time 85 minutes, A Ken Anderson Films Presentation.