photo from FOX news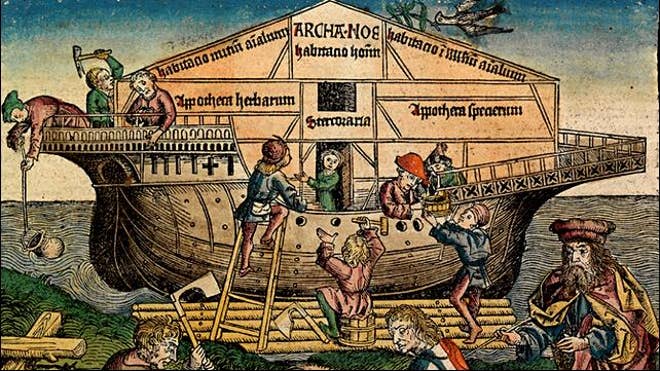 news from http://www.christianpost.com
Ocean explorer Robert Ballard, who is responsible for the discovery of the Titanic shipwreck, says he may have discovered evidence of the Great Flood described in the Book of Genesis.
Ballard is now on a mission to find evidence that the "mother of all floods" actually occurred, he told Christiane Amanpour of ABC News.
"We went in there to look for the flood," he told ABC News. "Not just a slow moving, advancing rise of sea level, but a really big flood that then stayed… The land that went under stayed under."
The explorer's mission was prompted by research conducted by Columbia University marine geologists William B.F. Ryan and Walter C. Pitman III. These men theorized that climate change during a glacial period caused the icecaps to melt, an article from The Earth Institute at Columbia University states, which led to widespread flooding.
Ryan and Pitman suggest the Bosporus strait, which served as a natural dam between the Mediterranean and Black seas, broke open at that time and caused salt water to flood the Black Sea with a force 200 times stronger than that of Niagara Falls. With the waters rising at the rate of about six inches per day, the flooding could have covered 60,000 square miles in less than a year, they theorize, causing humans to migrate away from the area and at the same time inspiring the stories of Gilgamesh and Noah's ark. Ryan and Pitman's theory can be found in their 1999 book, Noah's Flood: The New Scientific Discoveries About The Event That Changed History.
After deciding to explore this theory themselves, Ballard's team found an ancient shoreline 400 feet below the surface, which suggests a flood catastrophe did occur there. After carbon dating shells from the shoreline, Ballard estimated the event occurred about 5,000 BC – around the time some believe the flood described in Genesis occurred.
Although natural evidence has given him confidence in his research, Ballard is also looking for more evidence of the civilizations that were affected by the disaster.
Ballard and his team plan to return to Turkey in the summer of 2013.
Read more at http://www.christianpost.com/news/titanic-discoverer-finds-evidence-of-biblical-flood-86498/#PEMd8e0qsXO0lRkg.99
Revealing God's Treasure – Noah's Ark – Ron Wyatt
Related articles